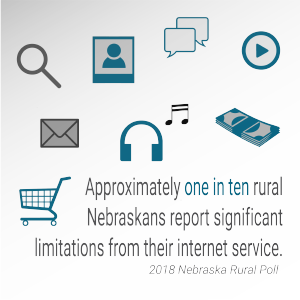 Rural Broadband Task Force will meet March 18
The next meeting of the Rural Broadband Task Force is scheduled for Friday, March 18 at 1:30 p.m. CT at Varner Hall, 3835 Holdrege Street in Lincoln in the board room on the lower level. The meeting will be webstreamed. The agenda and meeting materials are now available.
---
Governor Ricketts Appoints Two New Members, Reappoints 5 Members
Governor Ricketts has appointed Gwen A. Kautz from Dawson Public Power and Andrew Whitney from Bryan Telemedicine as members of the Rural Broadband Task Force. He has also reappointed Andrew Buker, Ron Cone, Zachary Hunnicutt, Tom Shoemaker, and Dan Spray.
---
Rural Broadband Task Force Approves 2021 Report
On Oct. 18, 2021, the Rural Broadband Task Force approved the 2021 report presenting their findings and recommendations.
---
ARPA and IIJA Include Federal Funding for Broadband
Funding for broadband deployment and digital inclusion is available to states through the American Rescue Plan Act (ARPA) and Infrastructure Investment and Jobs Act (IIJA). The Nebraska Legislature is expected to appropriate federal funding from these programs in early 2022. In the coming months, more information will be available on the amount of funding for broadband allocated for broadband grants and when the funding may be available.
---
Why Is Rural Broadband Important to Communities and Nebraska's Economy?
Rural broadband availability and adoption are associated with:
Attraction and retention of millennials
Greater economic growth
Attraction of new firms
Higher household incomes
Small business growth
Check out our broadband infographic (PDF) to learn more about rural broadband in Nebraska.