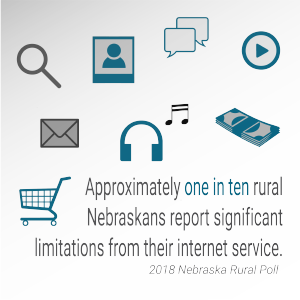 Up to $59 million in funding for Nebraska available through Rural Digital Opportunity Fund
Up to $59 million in funding will be available to telecommunications providers to provide broadband to 53,623 locations in Nebraska through the FCC's Rural Digital Opportunity Fund reverse auction. A webinar with information from the FCC on the fund and time for questions and answers is scheduled for April 28 at 3:00 CT. E-mail anne.byers@nebraska.gov for information.
---
Why Is Rural Broadband Important to Communities and Nebraska's Economy?
Rural broadband availability and adoption are associated with:
Attraction and retention of millennials
Greater economic growth
Attraction of new firms
Higher household incomes
Small business growth
Check out our broadband infographic (PDF) to learn more about rural broadband in Nebraska.