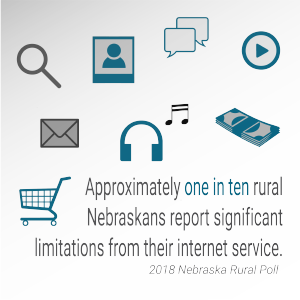 Task Force Will Meet Sept. 8 and Oct. 18
The Rural Broadband Task Force will meet on Wednesday, Sept. 8, 2021 from 1:30 to 3:30 p.m. CT at Varner Hall, 3835 Holdrege in the Board Room on the lower level and Monday, Oct. 18, 2021 from 9:30 to 11:00 a.m. CT also at Varner Hall. The agenda and meeting materials for the Sept. 8 meeting will be available soon. Written comments may be submitted via the task force website or e-mailed to ruralbroadband@nebraska.gov. Written comments will be posted on the Rural Broadband Task Force website.
---
New Broadband Resources Available
The COVID-19 pandemic has highlighted the importance of broadband. Several new resources can help communities and regions address broadband availability, including:
---
Why Is Rural Broadband Important to Communities and Nebraska's Economy?
Rural broadband availability and adoption are associated with:
Attraction and retention of millennials
Greater economic growth
Attraction of new firms
Higher household incomes
Small business growth
Check out our broadband infographic (PDF) to learn more about rural broadband in Nebraska.