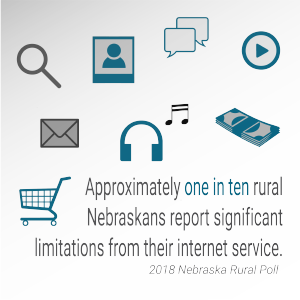 Rural Broadband Task Force will meet Oct. 18
The Rural Broadband Task Force will meet on Friday, Oct. 18 at 9:30 a.m. CT at Varner Hall, 3835 Holdrege St. to approve the Rural Broadband Task Force Report. The agenda and draft report are now available.
---
Why Is Rural Broadband Important to Communities and Nebraska's Economy?
Rural broadband availability and adoption are associated with:
Attraction and retention of millennials
Greater economic growth
Attraction of new firms
Higher household incomes
Small business growth
Check out our broadband infographic (PDF) to learn more about rural broadband in Nebraska.