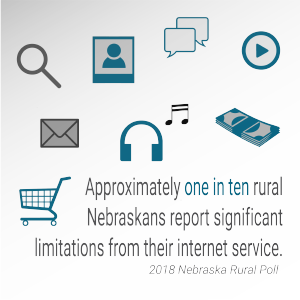 Nebraska's Rural Broadband Task Force makes recommendations, hearing set for Dec. 4
Nebraska's Rural Broadband Task Force has submitted their findings and recommendations to the Legislature. A hearing has been scheduled by the Legislature's Transportation and Telecommunications Committee for Dec. 4, 2019 at 1:00 in Room 1507 in the State Capitol. Members of the public are welcome to attend and to testify. Hearings are also webcast by NET.
---
Why Is Rural Broadband Important to Communities and Nebraska's Economy?
Rural broadband availability and adoption are associated with:
Attraction and retention of millennials
Greater economic growth
Attraction of new firms
Higher household incomes
Small business growth
Check out our broadband infographic (PDF) to learn more about rural broadband in Nebraska.